When friend and fellow writer and blogger, Jessica Rosenberg announced her first paranormal women's fiction book last year, Butter, Sugar, Magic I thought, "this isn't something I'm going to read". As much of a booklover as I am, I have never been a big fan of gothic, paranormal women's fiction, or fantasy fiction. 
But I am a fan of gothic, paranormal, and (some) fantasy television. In fact, by late winter, I had finished Not Dead Yet, on Hulu and was halfway through binge-watching Ghosts on CBS/Paramount +.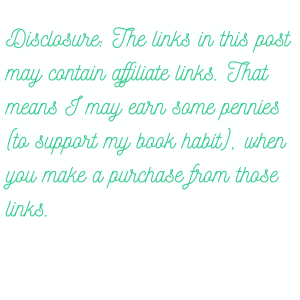 As Ghosts wrapped their second season, I decided to read a sample of Butter, Sugar, Magic to see if it was something I would like. I'd heard a lot of praise for the book already and I was already a fan of her writing, having read her blog for years and getting to know her through social media and pre-COVID conferences.  And besides, I Do love books.
Jessica turned one book into three and was working on the fourth and final book before I even finished the first book of what has become her wildly popular paranormal women's fiction series, Baking Up a Magical Midlife .  
Singing High Praises for Paranormal Women's Fiction
In the first book Butter, Sugar, Magic we find middle-aged Cassie and her daughter Aurie visiting the small New England coastal town of Portney to collect whatever a recently deceased great aunt had left to her in her will.  
Cassie looks at this visit as a small adventure, and a possible new beginning for her and her daughter after her divorce and left her with nothing. However, what her mysterious great aunt left to her turns out to be a magical bakery in a building that seems to already know Cassie and what her heart wants before she does!  Cassie also discovers that the building isn't the only thing that's magical. The rest of the book introduces us to the quirky residents of Portney, some with a hidden agenda and the rest with a curiosity for the newcomer and her daughter.
I read Butter, Sugar, Magic in a little over 24 hours.  My rating: a solid 5 stars.   
Book two in the series is Bread, Coffee, Magic. This time, we find Cassie adjusting to her magical midlife, running the bakery and trying desperately, and failing, to spend quality time with her daughter. There is little time left before school begins and Aurie is far from loving Portney the way her mom does.  
To make matters worse, dear old dad/ex-husband comes for a visit to worm his way back into Aurie's life with promises he has no intention of keeping. 
With the stress of running a business, trying to be the best mom, and warding off a sleazy ex-husband, something is bound to give and when it does, Cassie not only learns how to trust her friends to have her back but trust in herself too.
The book sucks you in immediately and pushes full throttle into a world of magic, some mayhem, and mystery that doesn't stop until the very last page. This time we are thoroughly invested in Cassie's and Aurie's lives. The plot, as simple as it may seem, is 100% the struggle of work/life balance and doing everything you can to protect your child.
Again, I give book two a solid 5 stars. 
In book three, Bitter, Sweet, Magic We find Cassie beginning to become more comfortable with her magic and her life as a bakery owner. She has a wonderful group of friends; Aurie is beginning to make friends (YAY!) and life is busy! But that doesn't mean life is easy, not when the oldest witch in town seems to have it in for Cassie. I won't spoil the MANY surprises in Bitter, Sweet, Magic except to say it's full of jealousy combined with dark magic, a fortune teller, and an unexpected reunion.
I give book three, 5 stars and once again, I had it finished in a little over 48 hours.  
The last book of Jessica's first paranormal women's fiction series, titled Sweet and Sour Spells, finds our beloved Cassie finally finding her groove within the bakery until a host of mishaps and disasters threaten everything. It would be enough to drive any small business owner out of town. But not Cassie. She has good magic on her side and the Brewhahas are there to keep Cassie afloat.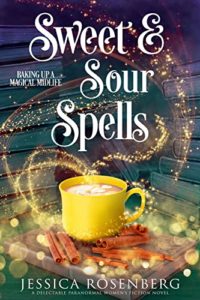 Unfortunately, we haven't seen the last of the old hag witch and her dark magic, if there was any doubt that Margie is an evil witch, let me be the one to tell you she's beyond anything I thought imaginable. But with her cousin Juliette by her side, Cassie sees Margie get the punishment she deserves. Unfortunately, everything has a cost…
I will not spoil the ending for you. I give Sweet and Sour Spells, 4.5 stars. The book is a little slow to take off but once it does, hold on to your broomsticks! 
Now it's Juliette's turn to shine. 
In her newest paranormal women's fiction series, Wyrd Words and Witchcraft, Jessica launches us into Juliette's world in book one titled Magic Hidden Magic Found. Juliette is also the town bookshop owner and fellow witch. Juliette is shy, awkward, and very much an introvert. She has spent the better half of her life finding solace in her books. Years of being put down by her mother and grandmother have done some serious damage to her self-esteem and it shows.  
But Juliette has magical powers that have gone untapped. Once Juliette uncovers this new power, she becomes overwhelmed and well outside her comfort zone. Will she rise to the challenge and embrace the adventures and possibilities in store, or will she retreat and let her anxiety get the best of her? 
I would love to give Magic Hidden, Magic Found a full five stars but at times I became distracted by the editing errors (Hey, I'm a writer too!). However, I finished it within 24 hours. The story and plot are solid and the characters… Well, I'm already in love with them from Jessica's first series. Book one of Wyrd Words and Witchcraft receives a magical 4 stars.  
(The next book in the Wyrd Words and Witchcraft is available to preorder now.)
The Paranormal, Curses, and Family Mystery OH MY!
The last paranormal women's fiction I have for you is The Last Heir to Blackwood Library by Hester Fox. The book is set in post-WWI England and our main character is Ivy Radcliffe, a young, independent 23-year-old woman living in a boarding house with her best friend, Susan. Out of the blue, Ivy receives a letter from an attorney informing her that she is an heir to Blackwood Abbey, an estate in the Yorkshire moors.
In fact, she's the last heir to the estate and thus becomes Lady Hayworth. I think Ivy was so ready for a change that she didn't really think things through when she agreed to take ownership of the estate. It's cold, dreary, and drafty; not to mention eerie. The estates servants are less than welcoming with house rules and they try to limit where Ivy can and can't go in the estate.  
However, Ivy is drawn the Abbey's magnificent library. She ignores the warnings of the staff forbidding her from frequenting the library (as if!) and begins cataloging the hundreds of books, manuscripts, and every document in the grand library. Though she finds comfort in the library, Ivy can't help but notice strange happenings. Time begins to pass strangely and as Ivy becomes more sucked into the library's enchantment, she begins to lose touch with the reality surrounding her and distrusting everyone except the one person she should avoid at all costs. 
This was a truly wonderful read full of magic, the supernatural and dark magic that is over 300 years in the making. The question you should ask is, will Ivy snap out of it and come to her senses before the Abbey takes her as it has taken every other heir in her bloodline? 
I loved this book, but I couldn't give it a full 5-star review. There were times when the story lagged a bit and I wanted to jump ahead and skip the mundane parts. I read the book in roughly four days, and it gets 4.25 stars.
I don't think you can go wrong with any of these 6 paranormal women's fiction choices. Jessica's two series' are more cozy and lighthearted but with some twists and turns you can't anticipate. I love the mama bear in Cassie when Aurie is threatened and how she learns to cast off the life she used to have in search of the one she wants. All of the books send the message that you're never too old to life your life your way and there's nothing you can't do with a little help from your friends, and of course, magic!