There is one fundamental thing about me that you must know; I'm a crappy planner. Outside of birthday parties I don't plan very well at all. In fact, most plans end up in disaster. That's not to say that you (or I for that matter) should never plan anything; it just means that I have to be choosy about what I plan out.
So you would think that because I plan so little that I could at least plan dinner every night, but alas, I do not. And that could be where Not Planning works against me. Because when I don't plan dinner – there most always is a disaster (insert grumpy, hungry kids and hubby who think I do nothing all day).
Last week, I considered it a new record when I planned  family dinners two nights in a row (also pressure from Brian being on vacation helped that new record). Unfortunately by day three I was all, "Okay you guys have two nights of left overs in there – go at it!" and I got grumpy looks and people pulling out cereal bowls and the milk. This apparently was not acceptable.
On night four I came home to dinner already made. A nice roast in the crockpot with vegetables. But on night five it was back to what to make. God bless my husband for trying to come up with a way to use up the leftovers but his idea of BBQ Beef and my idea of the dish varied greatly.
When Meatloaf isn't Just Meatloaf
On night two I had made Ree Drummond's Favorite Meatloaf with a few changes: First of all, I opted for whole wheat bread soaked in 2% milk (Ree is all about using what's on hand so I went with the flow). Her meatloaf (while I love the recipe) is on the basic and bland side so I also added diced onions, italian seasoning and split a pound of ground venision and a pound of ground beef (since we raise our own beef and the venison comes from Brian's yearly deer hunting trips, the meat is VERY lean). I also have a love of Worchester sauce and hot sauce so I added these to the meatloaf mixture for good, spicy measure, even though these were only technically called for in the sauce that doubles as dipping sauce and meatloaf topper. The result was AMAZING and even the hubby who doesn't care for meatloaf agreed that this was good.
But we didn't want to eat anymore left over meatloaf for night five. I decided to do the impossible: make dinner, use leftovers and make everyone happy. I went to the meatloaf and came up with a list of what we could make with the portion that was left:
Shepherd's Pie
Meatloaf sandwiches (voted no unanimously)
Spaghetti
Lasagna
Hamburgers
Casserole
Chili
I opted for chili simply because we had everything we needed on hand. I'd honestly never made chili from leftover meatloaf before and at first I thought, "Ew. This is going to be all chewy-like". Where I got that notion, I have no idea but I pushed on and decided that chili was what's for dinner.
I stripped the bacon from the top of the meatloaf and diced it into big chunks and threw it into the pot first. This way it could crisp up a little more and release some more smokey bacon flavor.
Next I got good and yucky (after I washed my hands of course) and broke up the meatloaf with my hands so that it was crumbled and bite size and tossed it into the pot as well.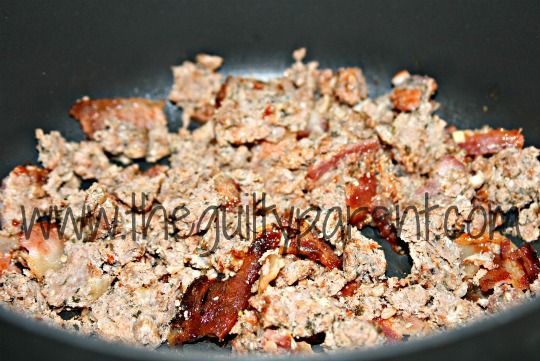 I let the meatloaf simmer in the pot for a moment before adding a can of tomato puree, a 28oz jar of homemade tomato sauce (that we canned last fall), a can of chili beans, kidney beans, italian seasoning, chili powder, a dash of hot sauce, and salt and pepper to taste.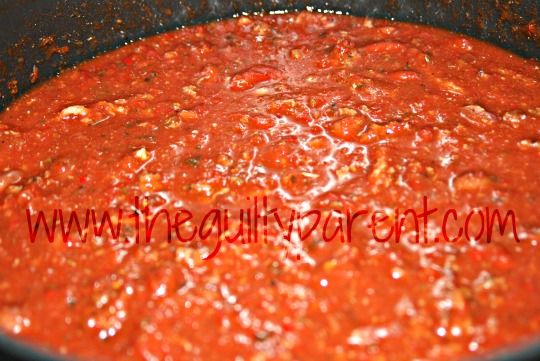 That's it. Most of the work was already done for me with the meatloaf and jar of tomato (also makes a good spaghetti) sauce since there were spices already added. The only thing left to do was bring the chili to a boil and then simmer the liquid down. I probably simmer it longer than most people would because as much as he likes tomato based foods, Brian is allergic to tomatoes so they must be cooked, very, very well or he can't eat them. We cooked up the rest of the rice we had left in the pantry, grated a block of cheddar cheese and Voila! Dinner was served. And No one complained!
We had one eat out night and then I served up one of my favorite dishes, Cheez-It Chicken, a recipe that I got from my friend Shannon (and is probably wildly popular and searchable but since I've had this recipe for 16 years on an old recipe card, I wouldn't know).
Dinner Planning Improvements
There are things that I'm doing to improve my dinner planning skills; I'm trying to plan out dinner at least one day in advance. I know people who have their dinners planned out a week or more but I'm just not there. I'm making better use of the leftovers we have in the fridge (see above chili). Now that I know how easy it is to literally make two meals from one, I will be making use of leftover foods like meatloaf and roasts more often (I did make up some BBQ Beef and freeze it for Brian's work lunches this week) and I'm cutting down on my trips to the grocery store by learning how to substitute ingredients and become a little more adventurous in the kitchen if we don't necessarily have all the ingredients we need.
Last and most importantly, I'm learning to stop feeling guilty if I don't get dinner planned every night. There are some nights it's going to work out well, and some that it isn't. As much as I don't want to rely on convenience foods (boxed dinners) or fast food, sometimes it happens and it's okay so long as it isn't a nightly habit. It doesn't help our budget and it's just not good for the kids.
How are your dinner planning skills? Do you have tried and true recipes for those tough nights when you don't plan ahead? I'd love to hear what you're doing to make dinner planning a priority in your house!