Talking as Fast as I Can: From Gilmore Girls to Gilmore Girls, and Everything in Between by Lauren Graham was the perfect way to start off my 2017 reading list. However, if I'm being honest, this was on that list, I just couldn't get a copy of it to borrow.
Before I get into the book, I have to tell you that I borrowed the book from the library as an audio book. There was no other way to read this book. It's Lauren and Lorelai talking and I needed to hear them both.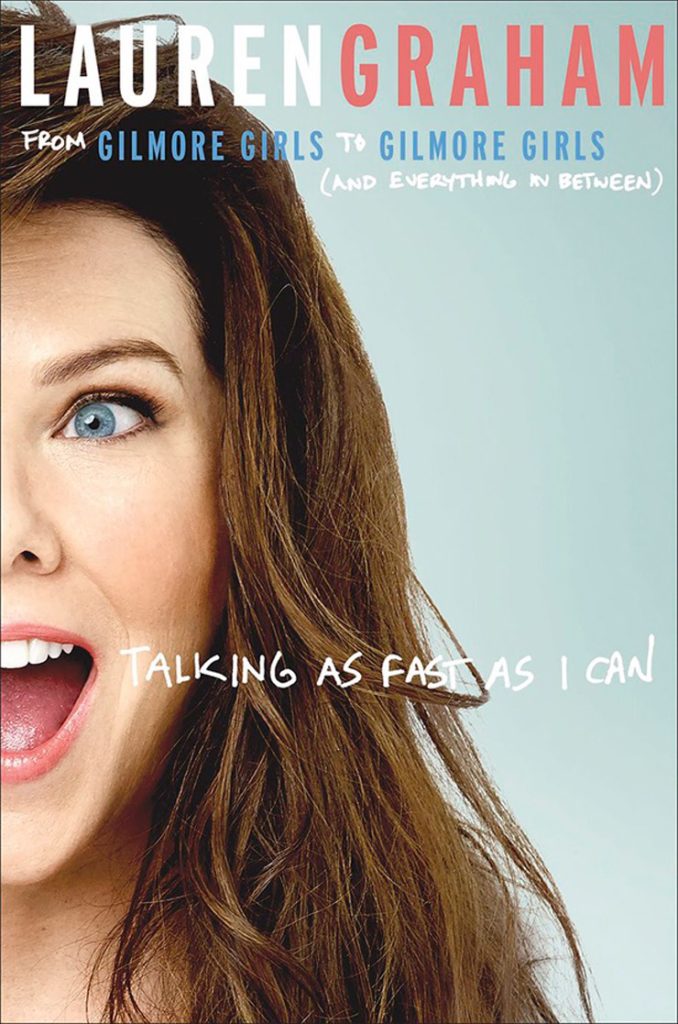 A look at Lauren's life
Talking as Fast as I Can is full of essays on Lauren's life, growing up, school, and her early beginnings as an actress. I love how she described life on a houseboat and later in life her unwillingness to disrobe just for a part in a play (spoiler: her butt auditioned). How strong women held her up and gave her opportunities and her desire to do that for other women.
Lauren's humor shines through every page. From beginning school a year ahead of most of her peers to what it was like to finally slow down and how "keep going, keep going, keep going" was both a blessing and a curse.
If I wasn't firmly planted in reality, I would think that Lauren and I were old friends and we were hanging out, with coffee of course, catching up on life and our careers.
What it was Like Part One
Lauren takes us on a memory filled journey through the first go-round with Gilmore Girls and the experience of having a long running show on network television. She discusses the characters, the clothes, her hair, trends, friendships, and what it was like when it ended. She does this by going back and viewing the show via Netflix. For the sake of the book, she went back and watched it all. Season by season, episode by episode.
Hearing about Gilmore Girls Seaons 1-7 in Lauren's own words brought the entire series home for me. I didn't watch Gilmore Girls when it was on network tv the first time. It was many, many years later when it hit syndication on Soapnet that I caught a few episodes. (Ya'll remember that channel right?) But it wasn't until Gilmore Girls hit Netflix that I finally binged the entire series (fyi – when I'm having a shitty day, I pick a random episode and watch until I no longer feel shitty).
Lauren doesn't watch herself on television so for her, sitting through all seven seasons was a feat on its own. She shares little tidbits here and there that even super fans may not know. The amount of in-real-life symmetry between the character plot points and the actors'/creators' real lives are amazingly fun and beautiful.
Just enough left to the imagination
Probably the biggest disappointment and it's not really a disappointment so much as a "please don't leave me hanging" was the feeling that there was so much more depth Lauren could've gone into where she did not. Maybe that's the difference between Lauren and Lorelai; Lorelai would've given TMI, more than you could've handled but Lauren holds back; choosing to keep private things private.
If that's truly the case, I'm not disappointed. The alternate to that might be Lauren has more essays to share. Honestly? I hope there's a book two in the making.
What it was Like Part Two
This is where Lauren loses me, or maybe I should say, I lose myself. As they are preparing for the filming and roll out of A Year in the Life, Lauren sets up with bits and pieces of how it all happened, again not oversharing but giving us enough information that we can put pieces together to see just how it all fits together. I found myself hanging on to every word, knowing that I will go back and watch the four mini-movies, again and again.
I cried and laughed out loud, over and over.
At one point, it feels like Lauren hints that this can't be the end of the Gilmores – I mean, not even Lauren herself believes that the last four words are really THE LAST four words.
"…They do not end the story we are telling as much as they introduce something that was not previously known. Which, to me, is not precisely an ending. To me, they are really more of a… 'Isn't it more of a cliffhanger?' I ask Amy. But Amy doesn't answer me. She just smiles. Hmmmm."
What I didn't realize until I was listening to Lauren roll through the first seven seasons and then again through A Year in the Life, was how much I created a Gilmore Girls-esque world for myself and my own daughter here in AK. I surely hadn't intended for that to happen.
Through binge watching the show and then listening to Lauren talk about her on screen and off screen relationship with Alexis Bledel I realized I have ended up with a much better mother/daughter relationship than Lorelai or I had with our mothers.
Really, the only thing missing for Bebe and me is the coffee and we're working on it.
Final Thoughts from Part One to Part Two (and everything in between)
I've read other reviews of Talking as Fast as I Can and some stated they were disappointed and felt that Lauren held back – but I don't feel that way. I think while Lauren is very much Lorelai, Lorelai is not Lauren Graham. (Does that make sense to anyone else but me?)
The two are very similar and you can see where Lauren draws on herself to play Lorelai but at the same time, the holding back, being cautious with how much she spills about cast, characters, experiences is very much herself AND Lorelai (because Lorelai would do what she could to protect her people).
Despite Lauren's professed reluctance to talk about herself, Lauren shares frame-on-your-wall worthy life lessons wrapped up in her experiences as an actress and a woman.
As I said at the beginning, I borrowed this as an audio book from the library but it's one that I'd listen to again and again. This book will surprise you. If you're a Gilmore Girls fan or you want to be a Lauren Graham fangirl, this is the book that will push you to that place.