One of my favorite accessories to knit and wear is cowls. There is a lot of freedom that comes with cowl knitting. You can knit them flat or in the round, make them long or short. You can use big bulky weight yarn, or something thinner, like lace or fingering weight yarn. You probably know cowls by their other moniker, 'infinity scarves'.
As I prepare for winter, I find myself searching for cowls to knit. A few years ago, I knit my first snood, a combination between a hood and a cowl. It's made to go over my head like a hat but with enough length to keep my neck warm as well. I rarely wear it like a hood but if I forget a hat or ear warmer, I know my snood has me covered (literally). It's been my go-to for a couple of years now; it's soft, extremely warm, and I feel as though I can hide in it a little.
My cowl wardrobe consists of mostly bulky knit cowls that are perfect for wearing outside in the cold but when I'm inside (which, let's be honest, is 90 percent of how I like to spend winter), I like to have something covering my neck to keep the chill off. Yes, I suppose I could wear my hair down to keep my neck warm but have you ever truly experienced curly girl hair in cold, dry, winter weather? It goes something like this: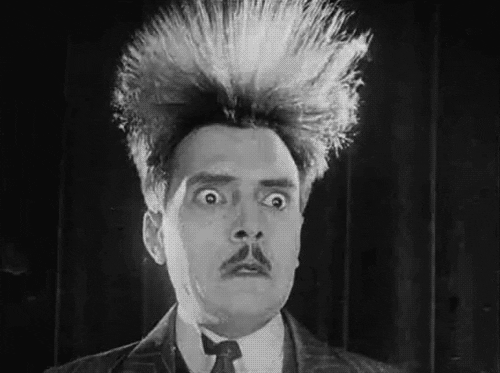 It's not pretty.
I would hate to see any of you suffer through the winter with a cold neck (that sounded better in my head), so I've compiled 10 cozy cowls patterns for you to knit. Hopefully, you knit faster than me and it doesn't take you a millennium to knit these.
Gap-tastic Cowl by Jen Geigley
This might have been the first project I ever knit to completion. It's a simple seed stitch pattern that's stylish and extremely comfortable. The Gap-tastic cowl is hands down one of those things you'll make again and again. Come to think of it, I have one on the needles now.
Cold Front Cowl by Heather Walpole
This the perfect cowl to wear when it's a tad too chilly in the room and warm enough to wear under your jacket. Another easy knit, the Cold Front Cowl is knit up with both knit and purl rows. It reminds me of my snood but on a smaller scale.
Sockhead Cowl by Kelly McClure
Fans of the sockhead hat won't want to miss casting on its partner, the Sockhead Cowl. Full of drape and versatility, the cowl can be worn around your neck as a neckwarmer or pulled up over the back of your head for those days when you forgot your matching hat.
Geode Cowl by Expression Fiber Arts
I couldn't pass up the chance to tell you about the Geode Cowl. It's more involved than some of the other cowls but that's because of the unique color pooling in the cowl. If you have yarn that has long bands of color and you aren't sure what to do with it, this is the pattern for you!
Four Seasons by PostStitch
I have this cowl on my needles right now and I am in love with how it's knitting up. (Disclosure, the Four Seasons Cowl is from my December 2019 PostStitch Box but available on Ravelry). The pattern has four section repeats giving it a distinctive "four seasons" look. I can already tell this cowl is going to have a beautiful drape to it. If you knit this, you won't regret it.
Intersect Cowl by Shay Johnson
I love a good bulky weight knit cowl, don't you? If you do, and I don't think you'd be here if you didn't, you'll the multifaceted the Intersect Cowl. It's reversible, textured, and knits up in bulky weight yarn. I received some yarn last year from the Fibreshare project that might be perfect for this pattern. I'll let you know how it knits up!
Bramble by Lone Larch Designs
I really like the snug fit to Bramble. It's got enough drape so you have the feel of a cowl while fitting close enough to keep the chill off your neck. Plus, it's one-skein wonder appeal makes it the perfect project for stash busting and travel, or tv watching.
Oats by Tin Can Knits
First of all, can you even call yourself a knitter if you've never knit a pattern by Tin Can Knits? Okay, maybe you can but I might have to side-eye you if you've never heard of them. Oats is my kind of cowl. It's drapey, textured, and the pattern is easily adjustable to fit multiple sizes.
Twisted River Cowl by Fairlight Fibers
If you're looking for the perfect neck hugging cowl, Twisted River will not disappoint. Note the two cable styles amidst the purls… swoon and sigh. I have a confession; I love how cables can take a simple pattern and boost its WOW factor, BUT I don't know how to knit them. (Go ahead, take away my knitter card.)
Simple Yet Effective by Tin Can Knits
The name says it all and no, you're not imagining things. Simple Yet Effective cowl is another beautiful pattern by Tin Can Knits. There's a part of me that believes this pattern is the gateway drug to designing your own cowl. It really is simple yet, effective. Any variegated or multi-color yarn is sure to look lovely.
Bonus Cowl Pattern
You can stop reading now if you want but I thought you'd like to have ONE MORE COWL pattern that I'm loving right now.
Honey Cowl by Antonia Shankland
Don't let the look of the cowl fool you. The Honey Cowl is made with a three-row slip stitch repeat creating a waffle-like pattern. Once you get the hang of the pattern, it practically knits itself. I currently have Honey Cowl on my needles and it's a dream to knit up. Of course, you need to pay attention to your slip stitch rows but I can easily knit and binge-watch Bones on Hulu.
Now it's time to grab a mug full of hot cocoa, begin season four of The Crown on Netflix, and start knitting!
I'd love to know, what will you cast on first?